BMW i: Future mobility engineered today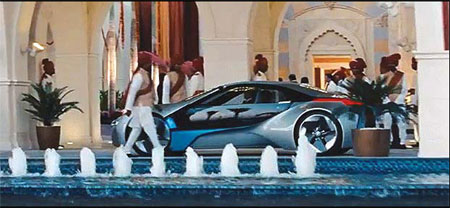 No retro-fit of a conventional car, BMW i vehicles are entirely designed for electric powertrains
New plans for electric vehicles are so widespread in the auto industry today that almost allcarmakers seem to be working on future models. Several have already rolled out mass-produced renewable energy cars.
As the world's leading premium carmaker, what BMW will offer as its own solution to futuremobility is highly anticipated by the motoring world.
Recently in Frankfurt, the manufacturer gave a dramatic answer when it debuted the first twomodels of its new "i" sub-brand, which stands for electric mobility.
Unlike other automakers, BMW showed two very different electric models at the same time. Itsi3 concept car is a small all-electric vehicle, while the racecar-like plug-in hybrid i8 twins anelectric motor with an internal combustion engine to deliver high performance.
With its compact, agile body and medium-sized electric motor, the i3 is BMW's practicalsolution for urban environments, said industry analysts.
In the i8 - with its dynamic sports car design and powerful output - BMW demonstrates that itssporty DNA will be retained and even enhanced in the new kind of automobile.
The two vehicles will be put into volume production in BMW's plant in Leipzig and go on sale in2013 and 2014. The company said it will invest around 400 million euros in new productionfacilities to make the models over the next three years.
"We are marking another milestone in the history of the BMW Group. As chairman of the boardand an engineer myself, I am very proud of this project," said Chairman and CEO NorbertReithofer.
The i3 is less than 4 meters long but has a 2,570 mm wheelbase that provides spacious roomfor passengers. Purpose-built for everyday use in cities, the car's range is long enough tocover the distance between home and office or even a trip to the suburbs on weekends.
The i8, combining an electric motor and 1.5-liter three-cylinder petrol engine, is remarkable forits performance. It accelerates from 0 to 100 km/h in under five seconds and uses less thanthree liters of fuel every 100 kilometers, capabilities beyond any other current vehicle poweredby a combustion engine of comparable performance.
Both the i3 and the i8 also use engineering BMW calls Eco Pro to increase electric drivingrange and reduce power consumption at the press of a button. In the i3, it stringentlymaximizes the range amid unforeseen circumstances such as prolonged traffic congestion thatmake reaching a destination uncertain.
The function limits electrically powered conveniences such as air conditioning and heatingsystems and shuts down others such as heated seats and heated mirrors altogether.
In addition, intelligent navigation functions in the i8 enable optimal energy management tosignificantly reduce fuel consumption. As soon as a destination is entered into the navigationsystem, the vehicle calculates the best way to manage energy consumption by its two powerunits along the route.
On different sections of the route, the vehicle characteristics can be modified for either formaximum efficiency or optimal performance.
LifeDrive
Unlike the common approach to integrating electric components in conventional vehiclesdesigned for a combustion engine, the innovative LifeDrive architecture in BMW i vehicles aredesigned specifically to meet electric powertrain requirements.
As a result, the electric motor and the battery are optimally accommodated. Combined withlightweight design and innovative use of materials, the vehicle can be electrified withoutcomplex modifications and additional weight.
The approach also ensures generous interior space, top driving characteristics and high safetylevels for the battery and passengers.
BMW's LifeDrive concept has two innovative components - a drive module integrated into thevehicle's suspension and a high-strength, lightweight passenger cell made from carbon fiber-reinforced plastic (CFRP).
"This vehicle (i3) will mark the launch of the first volume-produced car featuring bodyworklargely made of carbon. It's a revolution in automotive design," said Klaus Draeger, boardmember for development.
Like the cockpit of a Formula One car, the CFRP passenger cell provides an extremely strongsurvival area. Pole impacts, side-on collisions and rollover tests highlight the impressive safetyproperties of the extraordinarily robust material.
With the LifeDrive approach, the automaker has taken lightweight design, vehicle architectureand crash safety into a whole new dimension.
For the BMW i, sustainability is of pivotal importance and something it aspires to throughoutthe entire production chain. From the earliest planning stages, clearly defined sustainabilitytargets were set for the BMW i vehicles. All sustainability aspects were addressed across theentire spectrum, from purchasing, development and production to sales and marketing.
Sustainable system
The BMW Group as a whole has invested enormouse effort in developing a sustainableproduction system. With its "i" vehicles the company goes even further.
Compared with the already efficient BMW Group production network, the production plant forBMW i vehicles in Leipzig will save an additional 70 percent on water consumption and 50percent on energy for each vehicle produced.
Further reductions on greenhouse gases across the entire product lifecycle can be achievedthrough a carefully focused purchasing strategy for aluminum and CFRP.
Aluminum produced from 100 percent renewable material - known as secondary aluminum -can reduce CO2 emissions by 50 to 80 percent compared to conventional manufacturing.More than 80 percent of the aluminum used in the i3 is produced either using renewableenergy or from secondary material.
In CFRP manufacturing, the BMW i also uses eco-friendly processes. Material produced at theautomaker's joint venture Moses Lake plant in the US is made using electricity generatedentirely from hydroelectric power.
BMW i suppliers must also demonstrate that their business practices are sustainable.
Mobility services
The BMW i also stands for comprehensive and custom-designed mobility services that canoptimize personal mobility even for customers who do not own their own vehicle.
Starting in June, the DriveNow joint venture between BMW Group and Sixt AG is offering amobility service, initially in Munich, that includes high-efficiency premium vehicles and anextensive range of services.
A highlight of the service is that vehicles do not have to be picked up from and returned tospecific locations but can be hired and left wherever the customer wishes.
Customers can check vehicle availability either on the Internet, use a smartphone app orsimply when passing by on the street. Conventional car keys are not required since theDriveNow vehicles can be unlocked by means of a chip inserted in a driver's license andstarted using a starter button.
More major European cities will get the service later in the year. In the longer term, there arealso plans to extend this car-sharing service to other continents as well.
In addition to developing and offering its own services, BMW Group also provides services inpartnership with other companies and makes strategic investments in mobility serviceproviders.
BMW i Ventures, a subsidiary established early this year, is providing backing for new,promising startup companies. MyCityWay and ParkatmyHouse are the first two startups inwhich BMW i Ventures invested.
MyCityWay is a mobile app that provides users with information on public transport, parkingavailability and local entertainment for more than 50 cities in the US, Canada, Europe andAsia.
The ParkatmyHouse Internet platform enables private individuals rent out their driveway orprivate parking space on an occasional or permanent basis. This parking management servicemakes private parking spaces affordable and takes the pressure off street parking.
Found At: http://www.chinadaily.com.cn/cndy/2011-09/14/content_13680604.htm